What do I need to know for my visit to the garden?
Jardín escultórico edward james
This Cultural Heritage of exceptional aesthetic value was declared an Artistic Monument by the Government of San Luis Potosí in 2006, and in 2012 by the Government of the Mexican Republic.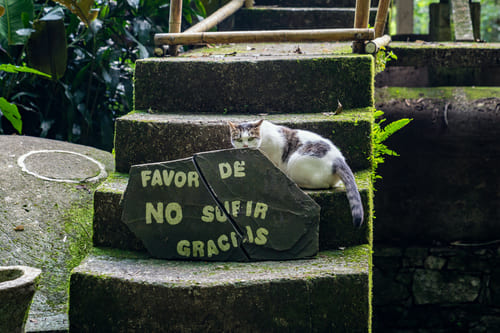 Recomendaciones para tu visita
COVID 19
We ask you to help us keep a healthy distance, as well as to make use of the antibacterial gel that is found both at the entrance and in the different stations located within the garden. Likewise, body temperature will be taken by our staff before entering the site. The use of face masks and masks during your stay is mandatory.
Vestment
Wear tennis shoes or closed shoes and comfortable clothes, avoid sandals or heels, the pedestrian corridors are made of stone and the floor can be slippery. In spring season we recommend you to wear fresh and comfortable clothes since the humidity is high.
Take into account
Visiting the Sculpture Garden requires considerable physical effort since it is located on the side of a mountain. Keep in mind to drink water and, if you have any medical condition, to have adequate precautions.
Protection
Apply mosquito repellent and sunscreen prior to your visit.
Accessibility
The Garden's design has steep slopes and narrow pathways, so access for wheelchairs, strollers, and people with reduced mobility is not recommended.
Foods
Entry with food or drinks is not allowed with the exception of bottled water.
Pets
Pets are not allowed.
Professional photography and videos
The use of drones or selfie-sticks is prohibited. Professional photographic sessions and equipment (tripods, lighting, reflectors, etc.) are not allowed without prior authorization.
Rainy season
In winter season there is usually rain, prepare yourself with a raincoat.
Baggage
The Garden does not have luggage storage and is not responsible for the custody of valuables or luggage